Welcome To My Home Page..


CONNER'S CORNER

My name is Conner. I don't really know how old I am. I might be about five or six years old now. In August 2001, my previous guardian dumped me. I was so alone and hungry. One day this cop happened to see me and he fed me half of his lunch. For the next couple of days he came by and patted my head and gave me some of his lunch. I really looked forward to his visits. After about three days, I didn't see him again for about a week a half. Finally one day, he showed up again! It was a dream come true!! I later found out he had worked in a different area during the time I hadn't seen him. Anyway, when he came back, I was still there, hungry and alone. He immediately came to say hello to me and gave me some of his lunch, which I gulped down as fast as I could! He saw a lady at a nearby house and he asked her if I belonged to anyone. She informed him that two weeks prior, she saw someone throw me out of a car and speed away, and I had been there ever since. Well....the cop, who is now my "daddy", called "mommy" at work and told her about me and how I was all skin and bones and starving to death and she told him to bring me home. I don't know who was happier.....me OR daddy!!! I got to ride home in the backseat of the patrol car. Once I got home, I was introduced to my new family. There was Kaci, a Jack Russell Terrier puppy, who at the time was about 8 months old. She and I hit it off immediately and today we are inseparable. There were also THREE cats: Cole, Kayleigh and Kassidy, who are all rescues like me. The next day I was taken to the vet, for shots and neutering. That's when it was found out that I had heartworms. I weighed only about 38 pounds. I was very sick for several months during my heartworm treatments. These days, I'm all better and I weigh 80 pounds! I know I was one of the "lucky ones." Not every dog or cat who gets dumped is as lucky as I was. I wish this world had LESS people like my previous guardians and MORE people like my new mommy and daddy. Mommy and I are working on the site to make others aware of the cruelty of animal abuse. We just want to spread the word, that animals have feelings too.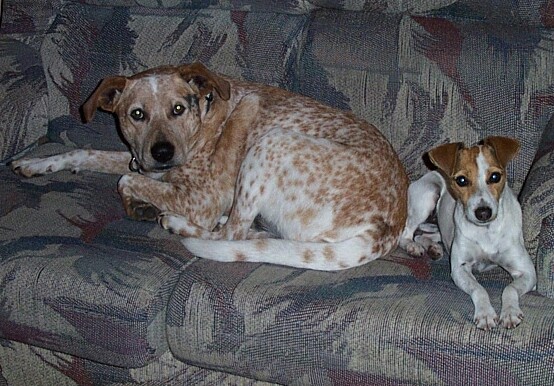 Atascocita/Kingwood/Humble, Texas Community Bulletin Board
Please visit the community bulletin board to list and see upcoming pet related events and activities. You can also post local area lost and found pets!
Atascocita/Kingwood/Humble, TX Bulletin Board
REMINDERS

Never hit your cat, because he may eventually learn to fear you. Try using a spray of water, loud noise or a puff or air to discourage unwanted behavior.
Our Prayers Are With the Animal Victims of Katrina
Tribute to Katrina's Forgotten